LET'S TALK, CTVT's four year project looking for breakthrough initiatives to confront the scourge of knife crime, is starting its third year. Lockdown with Covid-19 caused the loss of one scheduled Forum, at Dulwich College in the 2020 series. The other five events involving schools and youth clubs took place as planned.
Despite another protracted lockdown in early 2021, families in the country's inner cities and London especially still face fear and a rise in violent crime.  CTVT is looking at online discussions with families as well as young people.
Young people in the 2020 series of Forums spoke passionately and sometimes angrily about racism both in the Police and even in schools. Tougher sentences were wanted, and some students called for the reintroduction of the death penalty.
Community TV Trust [CTVT], in schools and PRUs and workshops for the disabled and marginalised, offers media training & filmmaking, engaging people and young people in open-ended creative work, linking Community to Education. Featured above is a scene from a musical drama about knife crime created by Year 9 students at Harris Academy Peckham.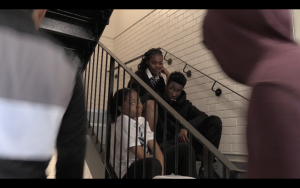 Partnering CTVT in the second year of LET'S TALK were Ark Walworth Academy, Blue Elephant Theatre, Highshore School, Dulwich College, plus Surrey Square Primary School and Bede Youth Adventure Project returning for a second year.
CTVT has produced a large number of film dramas with the students at local Southwark schools, primary and secondary, and youth clubs, and shot many films including a one-hour documentary, "It's A Cavendish Thing", with students and staff at Cavendish School in Bermondsey.
Chris Haydon, who founded Community TV Trust in 1999, worked in broadcast TV as a director and producer, learning his trade as a documentary filmmaker on 16mm at Granada TV in Manchester.