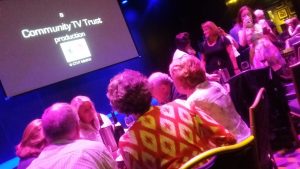 Apart from being premiered in a casino, this project exemplifies all that Community TV Trust has to offer: media training & filmmaking, engaging young people in open-ended creative work, linking Community to Education.
Cavendish School is a special needs school in Southwark, south London,  for 11-16 year olds referred from London's boroughs. It was founded in 2000 by Managing Director Cheryl Stepton, has a school roll of around thirty predominantly male students, and is run by a terrific team of dedicated teachers and assistants. Life at Cavendish is not easy or predictable; it is in point of fact exceedingly challenging. Right wing media would find it easy to be judgmental about the students and
probably the school as well.
The film runs an hour, was made over the course of a year, during which time CTVT was delivering filmmaking courses in blocks of ten weeks. The documentary was built with contributions and input from the students, staff, an educational psychologist, a parent, a former student, a police officer, contains material from the film dramas the students have been making, and a telling sequence from the CCTV system now integral to the running of the school.
"It's A Cavendish Thing" was premiered at The Hippodrome, Leicester Square on 7th July 2016.
Chris Haydon, who founded Community TV Trust in 1999, worked in broadcast TV as a director and producer, learning his trade as a documentary filmmaker on 16mm at Granada TV in Manchester.
The challenge in producing this film was to find a way of telling the whole Cavendish story: life is not straightforward but can be immensely rewarding. Students have difficult lives and often troubled backgrounds. Their behaviour can be very challenging at times. The usual tabloid rush to judge is profoundly unhelpful.
The hope is that "It's A Cavendish Thing" has found a balance between being respectful and asking the difficult questions.
Chris Haydon
Director
Community TV Trust
07970 970 715
chris@communitytvtrust.org