Community TV Trust won funding from The Peckham Settlement to run "LET'S TALK", a project on knife crime, in early 2019. It combines holding discussion forums for young people to speak at, with production of a documentary film to tour Southwark and south London to stimulate thought and debate.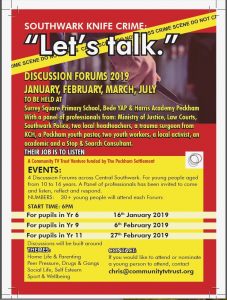 CTVT held its 2019 series of Discussion Forums – starting at Surrey Square Primary School in January to hear young people aged around ten or eleven; moving to Bermondsey's Bede Youth Adventure Project in early February to hear from 13 year olds, and in late February holding an event for 16 year olds at Harris Academy Peckham in central Southwark.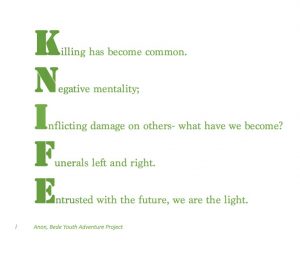 The key ingredient is a Panel of professionals invited by Community TV Trust to attend the Forums and listen to what young people have to say about their world. The Panel then convened in March to deliberate over what they had heard and consider what actions to take.
At time of writing it is intended that, by early July when the final forum of the series is held, a number of actions will be under way and plans for further innovations and interventions will have been laid.
The Panel comprised a Deputy Director of Policy and the Ministry of Justice, a QC who sits as a Judge, a dynamic Police Superintendent who is making a big impression in Southwark, a trauma surgeon, a youth pastor, two youth workers, a Stop & Search consultant, a headteacher, a music teacher and an academic. The Panel is chaired by Chris Haydon, Director of Community TV Trust. They report to participating young people in early July and the event is likely to preview a film of a musical written by local young people about a knife crime tragedy.
Community TV Trust wishes to thank its partners for this successful first series of discussion forums: they are Surrey Square Primary School, Bede Youth Adventure Project, Harris Academy Peckham. Each partner played host to one of the series of Forums.