DIRECTOR/PRODUCER TV, FILM & THEATRE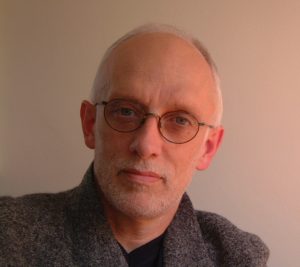 Background
The journey to running a local media charity began in broadcasting.
TV producer Chris Haydon launched community media specialist Community TV Trust [CTVT] in 1999 and remains director and managing trustee. Today it offers media training, film and video production, has worked in the margins with disabled adults, ex-offenders, young people at risk of exclusion … and innovated with web-based project "Southwark.TV" in south London (UK). Its inclusive modular website hosted over 50 partners – schools, colleges and community groups – each of whom had a section of the central website, created and published their own media – text/ stills/video/animation/etc., supported by CTVT. With skills acquired, many of which were transferable, and with solid local stories told, "Southwark.TV" was a success.
Local media is useful, relevant and fun. It also empowers. Twenty years on Chris and CTVT remain committed to community media, work has been seen on broadcast channels, and widely on the internet; currently in production are four documentary films. They address disability today, Police relations with south London's Black communities, family rehab and the esoteric subject of minority burial grounds.
1983 Freelance director/producer with Granada TV, LWT, C4, PBS
1999 launched Community TV Trust [CTVT]
2000 CTVT achieved charitable status
2003-2014 "Southwark.TV" CTVT's landmark local media venture; from 2005-11 educational DVDs on Knife Crime, Islam, Irish Travellers, Healthy Eating … 2009-2012 "London Young Voices" a positive media initiative with young filmmakers … and from 2006-20 Media Director, Freewheelers Theatre & Media Company working with disabled adults as facilitator and producer.
2018-2022 "LET'S TALK Knife Crime" has been the dominant project, mixing live discussion forums, film screenings and online Zoom discussion videos.
Apart from serving as Managing Trustee and Chair of Community TV Trust, Chris was also Chair of local grant-making body The Peckham Settlement [2017-2020] and is a member of Community Media Association. He is a trained Life Coach and has spent time as both an advocate and a Samaritan.
RECENT THEATRE CREDITS
2018 "Nine Pantos and Carol's (not coming)" an immersive panto remix written by Chris Haydon. Cinderella runs Cinders Mince Pies in Scroogetown, meets Goldilocks who merges with Rapunzel. Meanwhile the Scroogetown TV Noos reporter Mike Upperty (not My Cuppa Tea) discovers a link between the polar ice cap melting and Donald Trump. Add to this Santa's financial difficulties linked to population increases and you'll understand this hard-edged panto was one not to miss.
2018 "AMANDLA!" 18th July performance on the centenary of Mandela's birth to close the Amandla! project with Freewheelers.
2017 "A LAD IN BED" by Chris Haydon. Specially written for Freewheelers Theatre and Cobham Link for their joint project in Cobham with learning disabled adults.
2017 "AMANDLA!" tour to schools and smaller venues in Surrey and London of a one-act version
2015 "AMANDLA!" The Life of Nelson Mandela writer/director Premiere in December of two-act play written for Freewheelers Theatre & Media Company
2014 "BOLT" by Siren Turner
2013 "ENDGAME" by Samuel Beckett for Rye Mummers
EDUCATION/CHARITY/SOCIAL ACTION
Education Clients     HE Guest Lecturer at London College of Communication 2005-2006, London Metropolitan University 2007, City University 2008; FE Video Lecturer (HPL) at Hertford Regional College 2007-2010;
RECENT FILM & EDUCATION Credits include
2021 "EMILY WILDING DAVISON" a sculpture is commissioned of the suffragette who died under the King's horse in the 1913 Epsom Derby
2019-2021 "LET'S TALK Knife Crime" various films and videos for CTVT's major project
2018 "MILLWALL Black & White: A View from the Terraces" (Bede) documentary film produced with Bede House and Ole Jensen
2017 Filmmaking workshops via Freewheelers Theatre in Leatherhead, Cobham and Walton on Thames producing in particular "BELT, BRACES & DISABILITY 2" a serious look at living with disability through the stories of three members of the company
2016 "IT'S A CAVENDISH THING" (CTVT) one-hour documentary film about Cavendish School
2015 "THE FEAR" (CTVT) Students from years 7 & 8 at Cavendish School create a spoof horror film
2015 "MOCK 123" (CTVT) Students from years 9 & 10 at Cavendish School create a story around cyber bullying
2014 "BREAKING BONNIE" (Freewheelers Theatre) 50 minute crime drama about the redemption of a corrupt police officer
2014 "NO VICTORY" (CTVT) Students at Cavendish School in Bermondsey created a film drama about gangs and loyalty and the high price that some pay
2013 "HOME SWEET HOME" (Freewheelers Theatre) a full length comedy drama (83 mins.) about a care home run by dodgy disabled people, performed by Freewheelers' disabled actors
2012 LONDON YOUNG VOICES (CTVT) this three year project promoting positive media from young filmmakers concluded with a series of workshops at BOLD TENDENCIES
2011 "PECKHAM TRAVELLERS" (CTVT) educational DVD commissioned by Southwark Council. In production for a year, this project made connection with Southwark's Traveller community, young and old, men and women
2010   "MOSQUE: The Story of Islam In Southwark" (CTVT) educational DVD project commissioned by Southwark Council and produced in conjunction with four local Southwark mosques and their communities of worshippers – Somali, Bengali, Turkish, Nigerian
2009   LONDON YOUNG VOICES (CTVT) positive media project with primary school children in south London
2009   FREEWHEELERS THEATRE  facilitated production of short films for annual event screening plus production of "TOP WHEEL 2"
2009   PENSIONS FOR ALL (CTVT/SPAG)  Performance film of an opera. A pensioners action group in Southwark funded an opera production with primary school children celebrating the centenary of the state pension
2009   PERSONALISING MENTAL HEALTH CARE (CTVT/DH)  educational DVD on new methods of caring for mental health patients in community
2009   BEDE HOUSE (CTVT) consultancy re organisation profile and media strategy
2008  "SKIPPERING" (CTVT) executive producer drama-doc on homelessness written and directed by former homeless ex-soldier Stuart Mclennan
2008   FREEWHEELERS THEATRE , produced "TOP WHEEL", a spoof on Top Gear for the disability community, funded by Mediabox
2008  "SUM OF US ALL" (CTVT) DVD and documentary for settlement project, Bede House, in part filmed by local people who received training
2007 "HEALTHY EATING" (CTVT) educational DVD with Primary School
2007-09 FREEWHEELERS THEATRE Company, a disability performing arts company: filmmaking/media training/web development
2006 "SOUTHWARK.TV FESTIVAL of Film & Photography" (CTVT) for local mental health groups, providing training, exhibition space, screenings
2005-06  "ROLLING ON" (Freewheelers/Arts Council) disability arts film
2005 "SOUTHWARK HOUR" (CTVT)one hour discussion series with local films broadcast on Community Channel, producer/presenter
2005 "KNIFE" (CTVT) Film and DVD for Met Police on combatting knife crime
2004 Travelled with Southwark.TV model to West Bank and Myanmar
2004 "OH LITTLE TOWN" (CTVT) documentary about Bethlehem, dir/prod multiple broadcasts on Community Channel over Christmas
2004 "YOUNG PARENTS PROJECT" (CTVT) promo video, producer
2003/4 TACT working with disability (CTVT) dir/prod of documentary film + six corporates
2003 Pilot of "SOUTHWARK.TV" open-access community media venture
2003 "Youth Awards" Southwark Council commission
2002 Launch of "SOUTHWARK.TV" after 4 years development
2001 "ELMLEA: INFANT VALUES" (HVF/CTVT) second film celebration ofValues teaching
2001 "The CAN.MV Story" (CAN/CTVT) documentary for CAN (CommunityAction Network) re Millennium Volunteers Scheme
2001 METROPOLITAN Housing Trust (MHT/CTVT) social housing profile of major London-based housing association
2000 "A LIGHT in the DARKNESS" (CTVT) street theatre Passion Play filmed on location across East London
2000 "Story of the INDUSTRIAL REVOLUTION" (DD Video) 2×55 min films aimed at schools market
2000 "History of the ROYAL TOURNAMENT" (DD Video) 104-minute documentary of 120 year history ended by MoD in 1999
1999 "MY BELOVED COUNTRY" (Tibet Films) profile of Tibet charity's work with unseen footage from inside Tibet/China and India
1998 "WORKABILITY" (LC) LEONARD CHESHIRE film with Prof. S.Hawking
1998 "EDUCATION In HUMAN VALUES" (HVF) film of new education project bringing Values teaching to Junior schools
1997 "SEEING IS BELIEVING" (BITC) Prince Charles' community business
BROADCAST
studio / documentary / arts performance
TV / Corporate Clients inc. C4, Granada TV, HBO, LWT, Meridian, PBS, Thames TV, USA Cable Network, Antelope, Bandung, BITC, Bulletin Int., CAN, Cheerleader, CTVT, DD Video, Eden Productions, Els Joglars, HVF, Illuminations, Insight, ITF, Mentorn Films, MHT, Planet 24, Skin Two, Sunset + Vine, Tibet Films
TV / Corporate Credits include
2005 "SOUTHWARK HOUR" (CTVT) producer/presenter
one hour discussion series with local films on the Community Channel
2004 "OH LITTLE TOWN" (CTVT) dir/producer documentary about Bethlehem multiple broadcasts on Community Channel over Christmas
1996-2001 "DAVIS CUP"/"FED CUP" (ITF/Sky Sports) series producer of annual, global competitions
1998 "DISABILITY WORLD ATHLETICS" (SKY/API) producer one hour film of world championships – 60 nations/1,000 disabled athletes
1993 "OUT OF BOUNDS" (SKIN TWO) fetishistic film drama
1992-93 "MANCHESTER LIVE" (Granada TV) producer/director featuring MARK LITTLE ('˜92) and STEVE COOGAN ('˜93)
1988-91 "01-FOR LONDON"/"01" (Thames TV) director/series producer '˜infotainment' series balancing journalistic and visual wit
1985-87 "MEMBERS ONLY" / "NEW NORTH" (Granada TV) director, three documentary series on Parliament, business, environment & science
1985 "STREETS AHEAD" (Insight) dance films for C4
1983-84 "SCRAMBLE" (Granada TV) live studio/film insert director
adult self-help series
1983 "DECADENCE" (Haydon Galliard) Steven Berkoff play adapted for TV
1982 "LAURENCE OLIVIER – A LIFE" (LWT) award-winning researcher on BAFTA award-winning films for South Bank Show
Tel:   ++44(0)7970 970 715
Mail: 10 Denman Road LONDON SE15 5NP UK
Email: chris@communitytvtrust.org