"CHANGE OF THOUGHT"  [cert 12A, 73 mins, 2022]
… There's 3 paths: dead – jail – or a bounty on your head …
This documentary film features Southwark boys facing permanent school exclusion who now deliver training sessions to London's Police recruits.
Here is a trailer. Alternatively watch the film.
Feedback: "It's a very important film." …"shows what can be changed with the right intervention at the right time" … "I did wonder if black kids could do some training exercises for teachers as well as for the police." … "a  well told story, congratulations!" … "it's really good that Javell made it, among other young people featured in your film – there is hope in your film ! :)" … … "I was both encouraged and troubled by all of this" …
Elevated Minds, run by Doreen Sinclair-McCollin, coached the boys and aims to create sustainable change between Black communities and the Police. The film itself is the final output of LET'S TALK, CTVT's 4-year project looking for breakthrough initiatives to confront knife crime and youth violence. It ran Forums in schools and youth clubs from 2019, produced discussion videos during lockdown, and in September 2022 launched "CHANGE OF THOUGHT" at Peckhamplex cinema as part of Peckham & Nunhead Free Film Festival.
Voices in the documentary alongside Doreen Sinclair-McCollin, CEO of Elevated Minds, include many young people from local schools – Harris Academy Peckham and Surrey Square Primary School,  plus barrister Stephen Akinsanya, playground manager Stephney Bent, Sherifa Carr of Passion For Change, and Sayce Holmes-Lewis of Mentivity.
LET'S TALK videos LT#8 and LT#9 have been dedicated to this work.            Check them out on the Films page of the LET'S TALK project website.
LET'S TALK produced a range of videos across 2021 with young people and professionals. Across 2020 five out of six events involving schools and youth clubs took place as planned before the national lockdown. 

See also LET'S TALK Video Report 2020.
Community TV Trust [CTVT] offers media training & filmmaking in schools and PRUs and in workshops for the disabled and marginalised. Engaging young people in open-ended creative work, links Community to Education.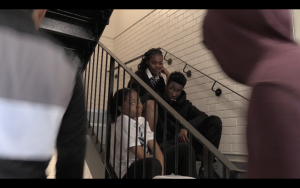 CTVT has produced a large number of videos, film dramas and documentaries, including a one-hour film, "It's A Cavendish Thing", with students and staff at Cavendish School in Bermondsey.
Chris Haydon, who founded Community TV Trust in 1999, worked in broadcast TV as a director and producer, learning his trade as a documentary filmmaker on 16mm at Granada TV in Manchester.