LET'S TALK filmed is scenes from a musical written, composed and performed by students at Harris Academy Peckham. The script came from real life and the murder of a former pupil in south London when he tried to intervene in a fight.
This formed part of the film screening in autumn 2019 of schools and youth clubs in Southwark.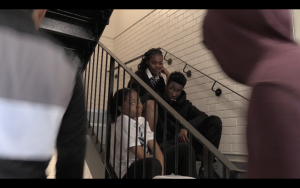 Filming also took place of "One Road, Two Paths", a powerful drama by local company Movement Factory, a Peckham-based dance group for 11-19 year olds. Five dancers from the company attended the final LET'S TALK Forum at HAP and performed extracts from their production.